Duct Terminators
Sturdy, plastic sleeves cast into walls of utility vault that provide a portal when tying in cable conduit
Size 2", 3", 4", 5" and 6" diameter
Accepts sch 40 PVC conduit except 4.35" dia.
4" available in 4.5" ID, 4.35" ID and Step-down version
2" glue surface
4" wall thickness
Made of sturdy ABS plastic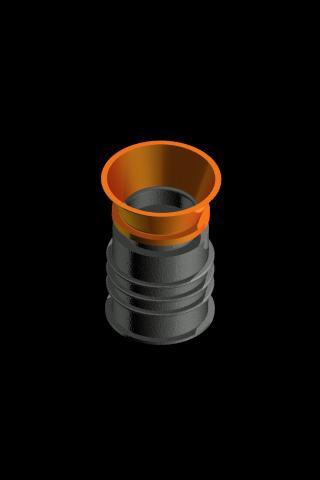 Duct Terminators
Item No.:
004-750-2 (2" dia.)
Sturdy, plastic sleeves cast into walls of utility vault that provide a portal when tying in cable conduit
Size 2", 3", 4", 5" and 6" diameter
Accepts sch 40 PVC conduit except 4.35" dia.
4" available in 4.5" ID, 4.35" ID and Step-down version
2" glue surface
4" wall thickness
Made of sturdy ABS plastic
Inside membrane prevents ground water infiltration into structure. Membrane can easily be removed to open terminator.
Use w/MA Rubber Locators
Use with MA's Terminator Grid (004-752-C)
Specifications